Buy storage Boxes
For every new season, spring, winter, summer or fall, the fishing tackle box manufacturers are introducing new products and gear at an incredible pace. There are a great number of storage boxes on the market.
Ammo Boxes & Ammo Pouches, Belts
ATV Accessories
Bait Containers, Traps, Livewells
Bow Cases-Hard
Bow Cases-Soft
Bow Sights & Accessories
Fly Boxes, Creels
Gun Cases-Hard
Gun Cases-Soft
Minnow Buckets
Misc. Hunting Accessories
Pistol Cases
Rod Lures
Safety Harnesses
Tackle Boxes-Hard
Tackle Boxes-Soft & Lure Pouches
Utility Boxes
Water Sports Accessories

Go to Online Store
Soft Storage Tackle Boxes
Welcome to the softer side of tackle storage systems and tackle boxes...

Soft tackle bags are becoming more and more popular every day. These soft sided bags are very durable, extremely lightweight, and are completely versatile. You can easily sling soft siders over your shoulder and carry all of your gear to the dock or boat. They incorporate simple designs allowing the use of tray containers to organize your top lures.
Several of the top models include: Plano FTO Elite Big Water Bag, Plano FTO Elite Speed bags, Plano Game Day Camo Bag, Plano Hank Parker Bag Top, Plano Small Gear Bag, Plano Softsider, and the Plano Waist Pack, to name a few.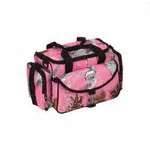 If you are looking for Soft Tackle Systems, go to the Online Store.

Go to Online Store
If you are looking for parts, such as hinges, or if you are trying to contact Plano Molding directly, please visit PlanoMolding.com