Buy storage Boxes
For every new season, spring, winter, summer or fall, the fishing tackle box manufacturers are introducing new products and gear at an incredible pace. There are a great number of storage boxes on the market.
Ammo Boxes & Ammo Pouches, Belts
ATV Accessories
Bait Containers, Traps, Livewells
Bow Cases-Hard
Bow Cases-Soft
Bow Sights & Accessories
Fly Boxes, Creels
Gun Cases-Hard
Gun Cases-Soft
Minnow Buckets
Misc. Hunting Accessories
Pistol Cases
Rod Lures
Safety Harnesses
Tackle Boxes-Hard
Tackle Boxes-Soft & Lure Pouches
Utility Boxes
Water Sports Accessories

Go to Online Store
Hard Storage tackle Boxes
We all know that Plano Molding Company makes some of the best Hard Tackle Storage systems available. Their tackle and storage boxes are considered not only durable but also very usable. Hard Tackle Systems help keep your tackl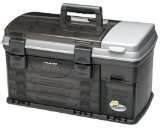 e organized and ready to go. Many systems have removable bait racks, removable dividers, removable utility trays for easy access and convenient storage to make locating you favorite lure fast and effective. Several models include a large top storage area with a clear view to all quick access to top level tackle. They even have spaces for utility boxes for your spinnerbaits and also for soft baits.
Several of the top models include: Plano Waterproof Box, Plano Utility Box, Plano Take Me Fishing Box, Plano Tackle Storage Tote, Plano Tackle Box 4-Drawer, Plano StowAway, Plano Spinner Bait Stowaway, Plano Pro Guide System, Plano Marine Box, Plano Mag Hip Roof Box, Plano Lg 6-Tray, Plano Lg 3-Drawer System Box, Plano Large 3 Tray Box, Plano Hard Tackle System, Plano Guide Elite, Plano Flipsider 3 Tray, Plano Flipsider 2 Tray, Plano

Eco 3-Tray, Plano Double Cover Two-Sided, Plano Double Cover Organizer, Plano Compact Side-By-Side, Plano CDS StowAway Utility Box, Plano Big Game System Hang, Plano 4-Drawer System, Plano 3-Tray Box, Plano 2-Tray Box, and the PLANO 1-Tray Box, to name a few.
If you are looking for Hard Tackle Systems, go to the Online Store.

Go to Online Store
If you are looking for parts, such as hinges, or if you are trying to contact Plano Molding directly, please visit PlanoMolding.com